DE INGREDIENTES INOVADORES A MAQUILHAGEM QUE DEIXA A TUA PELE RADIANTE, O LOOKFANTASTIC X NIP + FAB STARTER KIT É O KIT DE PRIMEIROS SOCORROS DE BELEZA QUE PRECISAS.
Esta
caixa
tem tudo: desde Retinol que aumenta o colagénio até ácido glicólico energizante, esta é uma solução facial completa para os amantes de beleza. Combinando 6 produtos essenciais desta marca de culto britânica, encontrarás tudo o que precisas para uma transformação total da tua pele. Obtém a tua caixa hoje por apenas 30€!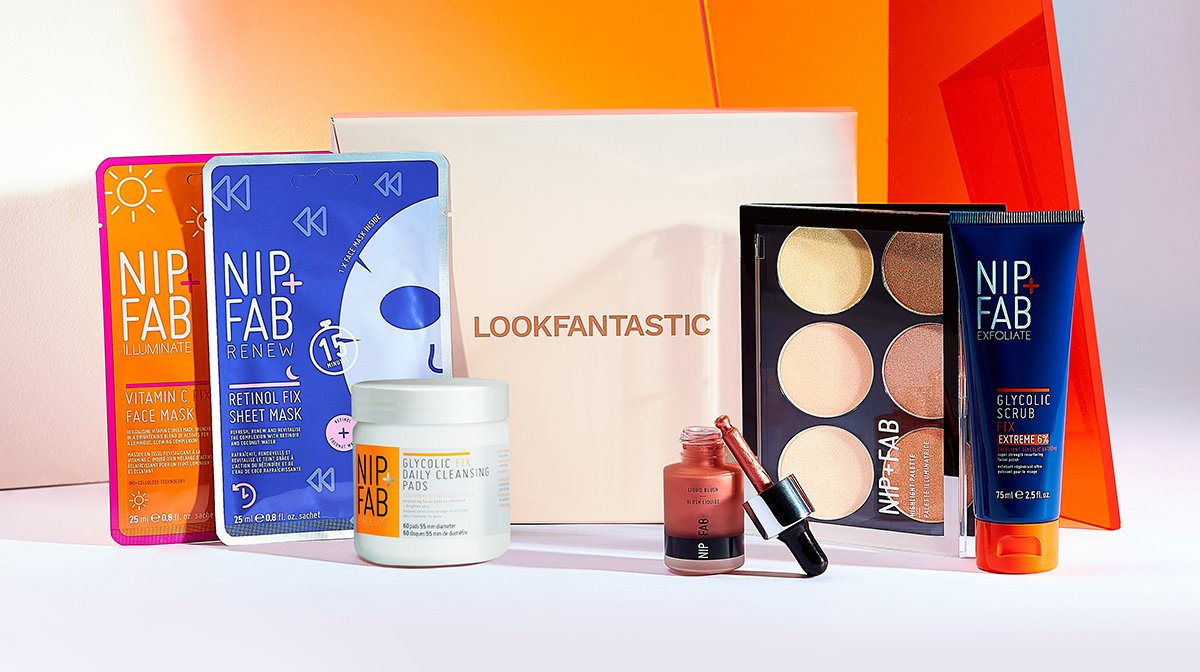 O que contém a caixa?
Nip+Fab Glycolic Scrub - Tamanho real - Valor de 14.95€
Recupera, refina e aumenta a luminosidade da pele com este micro esfoliante 3 em 1, que é uma versão mais compacta da fórmula clássica da Glycolic Fix Scrub. A fórmula combina 6% de ácido glicólico e 1% de ácido salicílico para remover as células mortas da pele e irradicar pontos negros. Tudo isto combinado com o calmante extrato de Aloé Vera, deixando a pele radiante e fresca.
Nip+Fab Vitamin C Face Sheet Mask - Valor de 7.50€
Transforma a pele sem brilho e cansada com esta máscara facial com infusão de vitamina C. A vitamina C ajuda a revitalizar a tez natural enquanto hidrata a pele, deixando uma aparência fresca e húmida. A Água de Côco e o Ácido Hialurónico aumentam instantaneamente a elasticidade da pele e deixam o rosto hidratado e luminoso, com um tom de pele mais uniforme.
Nip+Fab Retinol Fix Sheet Mask - Valor de 9.45€
Esta máscara em folha enriquecida com Retinol aumenta a elasticidade da pele, estimulando a produção de colagénio nas células. O Extrato de Flor de Edelweiss antioxidante reforça a barreira de defesa natural da pele contra toxinas externas e poluentes, enquanto a Água de Côco cria uma pele hidratada e saudável.
Nip+Fab Liquid Blush 'Sunset Glow' - Tamanho real - Valor de 14.95€
Este blush líquido altamente concentrado adiciona um brilho saudável, enquanto refina a aparência e a textura da pele. As gotas pigmentadas são tudo que precisas para adicionar um pouco de brilho à tua rotina de maquilhagem. Usa diretamente nos lábios ou nas bochechas para um brilho profundo, ou mistura com a base para uma luminosidade mais subtil.
Nip+Fab Highlight Palette - Tamanho real - Valor de 16.95€
Para um brilho instantâneo, basta olhar para a paleta de iluminadores da Nip + Fab. Os tons de camurça com textura cremosa deslizam sobre a pele, proporcionando uma injeção instantânea de brilho nas áreas que precisam de um destaque extra. Os seis tons universais dão uma elevação instantânea ao teu rosto, bem como um toque subtil de brilho metálico.
Nip+Fab Glycolic Fix Daily Pads - Valor de 19.40€
Clareia e revitaliza a pele com estes discos infundidas com ácido hialurónico e margarida azul calmante. Embebidas em ácido glicólico esfoliante, estes discos ajudam a ressurgir, limpar e retexturar a pele, proporcionando um brilho refrescante e saudável. As propriedades hidratantes ajudam a uniformizar o tom natural da pele, revelando uma pele de aparência mais saudável e suave.
Já és subscritor da Beauty Box mensal da LOOKFANTASTIC? Verifica o teu email de acesso antecipado* e obtém a Nip+Fab Starter Kit por apenas 30€!
Ainda não és subscritor? Subscreve hoje e obtém um desconto extra de 5€* com o código NFNEW
*Válido apenas em subscrições de 3, 6 e 12 meses
As the Beauty Editor for LOOKFANTASTIC Beauty Box I'm always hunting for a good beauty story, I like to remain ahead of the trends. But aside from this, I'm a keen reader and writer in my spare time. You'll find me with my head in a good book most of the time- Beauty & Fashion related or otherwise! You'll often find me obsessing over the latest tropical-scented body oil or lathering on the coconut moisturiser. As you may have already guessed, I have a natural affinity for all things tropical. Beauty and grooming for me is escapism, a little slice of heaven away from the day-to-day.